About RTM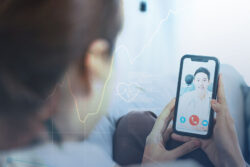 Remote Patient Monitoring (sometimes called remote therapeutic monitoring, or remote physiologic monitoring if done in conjunction with a physiologic biosensor) is the recording of health data by a patient, often from outside conventional care settings. The data is then electronically and securely transmitted to the patient's provider and their care team, sometimes via a centralized analytic center. The purpose of remote therapeutic monitoring is to optimize clinical care, and as a service, is reimbursable by many insurance programs including Medicare.Illumination Health's custom branded program, Patient Engagement Rx (PERx) enables rheumatology practices to provide Remote Therapeutic Monitoring to their patients. For example, a patient with rheumatoid arthritis or lupus might routinely answer questions via their smartphone app regarding their disease activity, recent flare, other patient reported outcomes, and medication adherence. The data is seamlessly uploaded to the Illumination Health platform. The patient's care team logs in to review the customized, intelligent dashboard that summarizes the patient's health data and as needed, communicates care guidance to the patient by direct messaging, phone, or email. Insurance provides monthly reimbursement both for data transmission and the staff time spent monitoring the app-based data stream.
Help Providers
deliver better care for patients, without waiting until the next office visit. Providers can improve their patients' engagement, more effectively triage care, and improve patients' experience with their rheumatology healthcare team.

Empower Patients
with confidence by providing the tools at the right time to maintain control of their health. Engaging with the app is one way they can contribute to the success and accuracy of their care plan and stay connected to their physician between visits.

Improve Healthcare
value by aiming to improve a patient's knowledge, self-efficacy, and care coordination, all which can reduce costs. Research has shown that patients with inflammatory diseases are less costly when their disease is under good control.
RTM Components
Enroll in RTM program via software as a medical device (SaMD)

Patient uses the SaMD at home to provide the data requested by the rheumatologist.

Provider's staff monitors the RTM data stream via a dashboard, and interacts with each patient by phone at least once monthly.

Provider's staff documents time spent, summarizes clinical status in the EHR, and bills monthly.

The U.S. healthcare landscape is evolving quickly and with these changes, a dramatic shift is required in how healthcare is delivered. The U.S. Census Bureau has projected that by 2030, more than 20 percent of U.S. residents will be 65 and over. More than one-third of all active physicians will be 65 or older in the next ten years. The size of the rheumatology workforce is declining and new care models are required.

Using technology to deliver care that is more efficient and enhances quality can address demographic challenges, as well as shortages of both rheumatology providers and pressures on reimbursement for traditional fee-for-service care models. The Centers for Medicare & Medicaid Services (CMS) has recognized that expansion of Remote Patient Monitoring is crucial for developing and scaling a sustainable healthcare system.

Needless to say, innovation in this field is meaningful to a vast group of the population seeking answers to painful problems. More specifically, it's meaningful to healthcare providers and integrated systems trying to financially support these growing medical needs and those struggling to find the resources needed to provide optimal care for each and every rheumatology patient.